About Xiaomi Mi Box
Mi Box.

4K Android TVTM set-top box, HDR video support, and a Bluetooth voice remote included.

Award winning design.

The sleek and innovative Mi Box design has received international acclaim and is the recipient of both Red Dot and Good Design awards.

Think out of the box.

With Android TV 6.0, connect to a world of content and entertainment at home with Mi Box. It runs Android TV 6.0 which is easy to use, supports voice controls and Google CastTM.

Cast your eyes wider.

Go from small screen to big with a single tap. Mi Box has Google Cast built in which let you can stream shows, movies, music and more from your phone, tablet or laptop on your TV.
eBay has provided more information about this product above and is not affiliated with or endorsed by Xiaomi.
Price Trends
Xiaomi Mi Box - Price New and Used
New Price*
from $58 to $90
Used Price*
from $36 to $46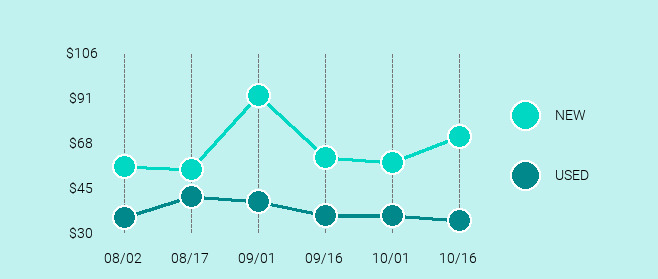 *The average sold price is calculated based on "Buy It Now" items sold within the 90 day period described above (excluding shipping and handling). Each interval represents a 15 day period. There is no guarantee that items will always be listed at a price within the provided range.
Top 10 High ratings
Top 5 Low ratings
Pretty good, so far. Not blown away.

I have purchased several of the $25 to $35 Chinese android TV boxes. Let's see how this one stacks up... This one works pretty good, but: A couple of problems: 1. No memory card slot 2. Only 1 usb port 3. No Internet browser The pros: 1. Netflix app plays very fast 2. Slick dedicated system for video entertainment 3. Voice control remote Installing a Kodi program required a wizard other than the ares wizard that I am used to. I have found one (echo wizard) that works, but really having a hard time getting sources to stream well. It may be just a settings issue. It is not a screenless cellphone like the cheaper boxes, but for twice the price, I'm not sure that it is twice as good. Hopefully it will be more robust and will have a better service life. The cheaper ones needed replaced at least once a year. I use the android TV box for our only source of TV service. So it gets several hours of use every day. I'm sure that I can use a usb card adapter for memory, but I need that for a wireless usb keyboard. I'm going to try a usb splitter, but I don't know if that will work for a "dvr" memory card for the DroidTV app. Also, I'm not sure how well that app will work with this video program. DroidTV is pretty finicky. First impression is that this is a pretty good video streamer as it comes. Most every streaming app it comes loaded with requires a subscription. Time will tell if it is worth the extra $$$.

Verified purchase: Yes

Nice TV box for Chinese content

This is my 2nd xiaomi TV box. The first one was xiaomi mini. easy (less than 5 min) set up. works well for most of the time. Occasionally jams up the router/modem and requires a hard reset of the router, but this is a common problem with all TV boxes. Compared to xiaomi mini, it does seem to be more stable. It actually performs better than amazon fire tv stick. Stable wise, it is close to apple TV.

Verified purchase: Yes

Nice tv box. For tv streaming is perfect. Nothing to complain about.

Nice tv box. For tv streaming is perfect. Nothing to complain about. I use it fot that essentially. Remote control response is great. No need to be pointing to the device directly. Great quality construction. Google voice search through remote control is also awesome.

Verified purchase: Yes

Takes some research on Android app.

Purchased this for my dad from China. He is happy about it now. It is not streaming that fast and clear for some live channels. But it works.

Verified purchase: Yes

Watching all Chinese drama from China Free

With Xiaomi 3S, lots of free Chinese drama from China. Most likely I will recommend Xiaomi 3S to all my friends.

Verified purchase: Yes

Great product

Great product, many things to watch, also many not free but that is expected. Overall very happy with it.

Verified purchase: Yes

Need time to evaluate this product.

So far so good. But I would like to give a comment after one year.

Verified purchase: Yes

great features

Great android box, user friendly, easy to install just love this product!

Verified purchase: Yes

Great Product

Really like the product. Easy to setup and works great.

Verified purchase: Yes

小米盒子4

Works nice, we can watch many channels from.China.

Verified purchase: Yes