Diapositiva {CURRENT_SLIDE} de {TOTAL_SLIDES} - Buscar por Red
Buscar por Estado de bloqueo
Diapositiva {CURRENT_SLIDE} de {TOTAL_SLIDES} - Buscar por Estado de bloqueo
1 - 48 de 2.045 resultados
About Samsung Galaxy S9
Showing slide {CURRENT_SLIDE} of {TOTAL_SLIDES}
Brilliant in the dark.

The Dual Aperture F2.4/F1.5 lens adjusts to let more light in when needed, allowing you to capture the right amount of light, day or night.

Experience audio brilliance.

Hear the action crisper and louder on the stereo speakers tuned by AKG. They offer pure sound that's 1.4x more than previous Galaxy phones.

Clear surround sound.

Stereo speakers pro-tuned by AKG bring you clearer and louder sound. Experience surround sound with Dolby Atmos, putting you at the center of the action.

Unlock with a look.

Use both the Iris Scanner and Facial Recognition to open your phone quickly and easily. Intelligent Scan now allow you to unlock your device, even if you're in the dark or in bright light.
eBay has provided more information about this product above and is not affiliated with or endorsed by Samsung.
Price Trends
Samsung Galaxy S9 - Price New and Used
New Price*
from $381 to $430
Used Price*
from $259 to $335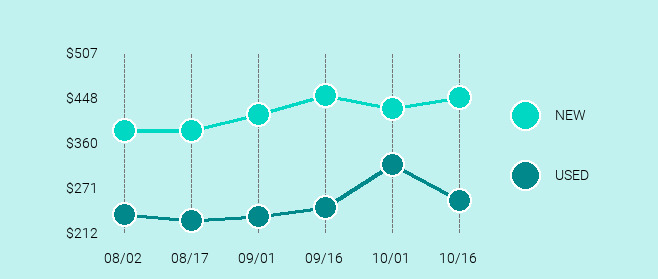 *The average sold price is calculated based on "Buy It Now" items sold within the 90 day period described above (excluding shipping and handling). Each interval represents a 15 day period. There is no guarantee that items will always be listed at a price within the provided range.
Compare Similar Models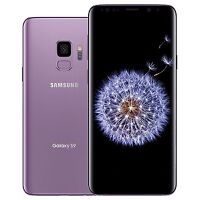 Samsung Galaxy S9
Display Resolution
1440x2960
Operating System
Android 8.0 Oreo
Camera (Rear/Front)
12/8 MP
Dimensions
5.81 x 2.7 x 0.33 inches
Internal Memory
64/128/256 GB
Processor
Octa-core 2.8 GHz
Battery Capacity
Up to 22 hours 3G talk time (3000 mAh)
Showing slide {CURRENT_SLIDE} of {TOTAL_SLIDES}
Samsung Galaxy Note 9

Display Resolution

1440x2960

Operating System

Android 8.1 Oreo

Camera (Rear/Front)

12+12 dual/8 MP

Dimensions

6.37 x 3.01 x 0.35 inches

Internal Memory

128/512 GB

Processor

Octa-core 2.8 GHz

Battery Capacity

Up to 28 hours 3G talk time (4000 mAh)

Apple iPhone X

Display Resolution

1125x2436

Operating System

iOS 11.1.1, upgradeable to 12.1

Camera (Rear/Front)

12+12 dual/7 MP

Dimensions

5.65 x 2.79 x 0.3 inches

Processor

Hexa-core 2.39 GHz

Battery Capacity

Up to 21 hours 3G talk time (2716 mAh)

OnePlus 6

Display Resolution

1080x2280

Operating System

Android 8.1 Oreo, upgradeable to 9.0 Pie

Camera (Rear/Front)

16+20 dual/16 MP

Dimensions

6.13 x 2.97 x 0.31 inches

Internal Memory

64/128/256 GB

Processor

Octa-core 2.8 GHz

Battery Capacity

Up to 27 hours 3G talk time (3300 mAh)

Google Pixel 2 XL

Display Resolution

1440x2880

Operating System

Android 8.0 Oreo, upgradeable to 9.0 Pie

Camera (Rear/Front)

12.2/8 MP

Dimensions

6.22 x 3.02 x 0.31 inches

Processor

Octa-core 2.35 GHz

Battery Capacity

Up to 27 hours 3G talk time (3520 mAh)
Top 5 High ratings
Top 1 Low rating
Worthwhile improvements.

The bluetooth audio is improved and works well with my Sony headphones. The phone is lighter but the screen is a lot less responsive than my s7 even with the more sensitive control toggled. The faster processor is noticeable and the battery makes it a few hours longer. I still need to carry a backup battery, however.

Verified purchase: Yes

Nice new phone.

I am "graduating" from a Galaxy J7. My main reason for changing was to get the 64 Gb internal memory (16 just doesn't go as far as I thought it would.) So far I am liking this new phone, but it is taking some getting used to. I don't like the absence of a physical "home" button, and am still wishing it was as wide as my old phone. Also, it seems to require a much harder tap to make something happen - guess that might be something I could adjust myself??? All in all, glad I have it.

Verified purchase: Yes

great phone!

So this was an upgrade from an AT&T-branded S6, which was running on the t-mobile network. (My abandoning AT&T is another story, but a very good move overall). The S6 was reliable, but battery life was declining and I felt it was time for an upgrade. The S9 is, IMO, an improvement in every way. It is smaller, lighter, brighter, faster, and runs a newer version of the OS that will never come to my older S6. I can easily run the whole day on a charge, which I could never do in the S6,: even in it's prime. I love the ability to add an SD card and have tons of storage And I had always blamed AT&T, and later T-mobile, for the abysmal call quality on my S6; it's much better in the S9. I have to think my particular S6 wasn't the best copy Samsung made., My only hesitation on the S9 is that it appears a lot more vulnerable than the S6. I had always kept the S6 in an OtterBox, which I felt offered a good balance between protection and usability. I have the S9 in a case (not an OtterBox), but the curved edges of the display seem very exposed., Other than the obscene cost for new flagship phones - I liked it when the carrier subsidized most of the price - I love the S9.

Verified purchase: Yes

Thumbs up!

Super fast charging. Battery does not last as long as my S7 Active but that is understandable. The fingerprint sensor works much better and i love the iris scan for security. Quick processing and you can keep lots of apps running with the 6 meg RAM. It has great sound from the speakers and still has a headphone jack for when i dont have or want to charge by BT ones. Just slap in a SIM (or 2) and go!

Verified purchase: Yes

Best Samsung yet!!

I have been buying Samsung phones for several years, and I have to say, this is the best one, as of yet., More than enough power, and having the ability to put a 400 Gb microSD card in it is the best thing since sliced bread. I have over 7000 songs and several hundred movies on the card, and still have room for thousands of pictures!, Highly recommend the phone!!, !!

Verified purchase: Yes