Diapositiva {CURRENT_SLIDE} de {TOTAL_SLIDES} - Buscar por Red
Buscar por Estado de bloqueo
Diapositiva {CURRENT_SLIDE} de {TOTAL_SLIDES} - Buscar por Estado de bloqueo
1 - 48 de 1.579 resultados
About Samsung Galaxy S7 edge
Showing slide {CURRENT_SLIDE} of {TOTAL_SLIDES}
Goes where you go.

The unlocked Samsung Galaxy S7 edge is designed for the way you live, and you can take it virtually anywhere you go, from Mexico City to Paris, and still stay connected.

Because water happens.

Bring on the spills, splashes, and dunks. Now you won't need to put your phone in a bowl of rice because of a little water.

Post-worthy day or night.

The camera has a sensor for catching details in low light, and a fast auto focus for photos with less blur.

Never delete a photo.

Running out of memory shouldn't be a thing, so if 32 GB isn't already enough, you can add an additional 256 GB with a microSD card. No clouds, no hard drives.
eBay has provided more information about this product above and is not affiliated with or endorsed by Samsung.
Price Trends
Samsung Galaxy S7 edge - Price New and Used
New Price*
from $220 to $324
Used Price*
from $121 to $140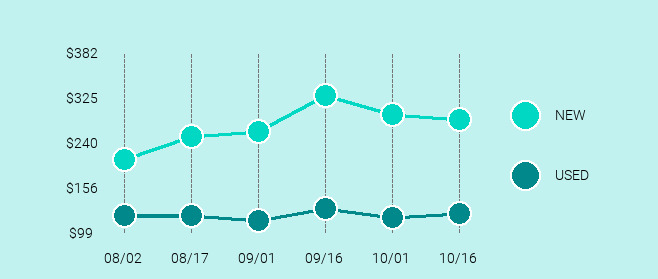 *The average sold price is calculated based on "Buy It Now" items sold within the 90 day period described above (excluding shipping and handling). Each interval represents a 15 day period. There is no guarantee that items will always be listed at a price within the provided range.
Compare Similar Models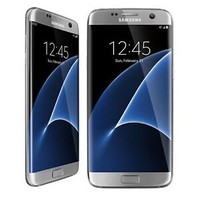 Samsung Galaxy S7 edge
Operating System
Android 6.0 (Marshmallow), upgradable to Android 8.0 (Oreo)
Camera
12 MP Rear / 5 MP Front
Display Technology
Super AMOLED
Chipset
Qualcomm MSM8996 Snapdragon 820 (14 nm) - G9350 / Exynos 8890 Octa (14 nm) - G935FD, G935F, G935W8
Dimensions
5.94 x 2.86 x 0.30 in
Showing slide {CURRENT_SLIDE} of {TOTAL_SLIDES}
Top 5 High ratings
Top 5 Low ratings
Surprising - From iPhone to Samsung S7 Edge

The Galaxy S7 Edge looks, feels and is simply beautiful. When it arrived in non-original packaging and knowing it could potentially have slight wear, I was a little concerned. But it looked/looks brand new. No signs of use. Came with original Samsung Adaptive Fast Charger. I swapped the Sim card from my old Apple iPhone to the Edge and followed the prompts to set it up. I have no problems with the edge and use it daily. There is about a 1in long sliver along the edge that you pull/swipe to open the edge menu. From there you can customize your preferred contacts/apps/utilities and many other options to quickly access in the edge banner. Going from Apple to Android, especially the S7 Edge, it's as if I left the town I grew up in for the first time and realized there's a big, customizable world out there. The camera options and images are amazing, clear and easy to use. The device feels like smooth glass all around so you will want to protect it. I'm loving not having to worry about keeping it dry. I take this phone on all kinds of rides, even water rides and no problems. It takes a good soaking. Intense Florida sun has been an issue for my devices in the past, but though it feels really hot, my S7 has not overheated or malfunctioned, yet. Overall, I would buy this phone for my family members. I love Apple, but with all that this phone can do for a lot less money, I'm not going to miss it.

Verified purchase: Yes

Excellent screen. Nice features. Bad music quality from headphone.

Pros: This phone has one of the brightest, sharpest, and most colorful screens I have seen on any phone. The screen is a pleasure to look at. It's very well built with a vary solid feel. The edge to edge screen give you extra room and allows for additional features like news feed and edge panel for organizing your apps. The CPU in the phone seems plenty fast but don't expect it to be as fast as the iPhone. The camera photo quality is excellent and probably on of the best in the market. The camera with it's very fast f1.7 aperture lens with a large pixel sensor, allow for some very impressive low light photos., , Cons: The audio quality for from the headphone jack is very bad and has a very low volume. I set the volume around 80% to get a decent volume. My old 2nd generation iPod touch blow this phone away in term of volume and sound quality. Using the Samsung headphone, the sound quality reminds me of a cheap pocket radio. This has to do with the poor quality of the Digital to Analog Converter (DAC) in this phone. However, if you use bluetooth the sound is good. The reason for that is that bluetooth is a digital to digital transfer and bypasses the DAC from the phone and uses the DAC in the receiver device instead., The battery life is average. It has a big 3600mA battery but it drain in a day with just moderate use. For an Android phone this seems about average. You can turn on the power savings option but that means your screen resolution will drop, screen brightness will drop, always one display option will be turned off as well as other stuff. My son has a iPhone 6 and his battery is much smaller but will last longer., The video quality is not that great with moving objects. The image stabilizer and focusing seems to have a hard time staying sharp when tracking an object or a person. Otherwise, the video is good in most other cases., , Overall I'm fairly happy with my phone. I bought it used, and it seems like a great deal. However, I would probably not pay full price for a new phone like this.

Verified purchase: Yes

Better than S8

The phone is sourced from United Arab Emirates. Indeed carrier unlocked and indeed no region locks. Came with factory installed Android 7.0. There's DUOS logo on back cover - doesn't bother me., , It is considered international version, but still few features will remind you about where this phone came from, for example, non-removable Ramadan event Jun-Jul in S Planner, kinda annoying, but not big deal. Some UAE specific settings in the Android that cannot be removed and doesn't do anything. Anyway these are just tiny complaints considering that this is the ultimate machine with 128GB onboard memory which is rare for Samsung phones., , Works great with AT&T and T-Mobile in USA, works great in UK, in Germany and all over Europe. Getting 4G connection all the time, speeds reach up top 130Mbits up and down in public places. UAE region Samsung devices get OTA updates very fast after official release, getting big updates once in a month., , Compared to S7 Edge black onyx, this 128GB model feels a little bit cheaper and lower quality when holding in the hand, and tapping back cover. It has some plastic feel to it, a bit disappointing. But this problem is more or less common for all S7 Edge models, they look premium, but doesn't have premium feel., , Samsung Pay comes pre installed but will only work in Emirates. There's a message when opening the Samsung Pay app which says that currently does work only UAE, Samsung may unlock it globally this year, will see., , Unlike weird S8, this comes with good standard 16:9 ratio, and quickest fingerprint sensor I ever tested which is placed on home button where it belongs to., , And finally 128GB of super speed UFS 2.0 memory chip which even S8 doesn't have (in US versions). Enough memory to stuff in hundreds of apps, games and VR staff - don't feel need to root anymore. Accompanied with Samsung fastest 256GB EVO+ SD Card you got almost half TB of database server in your pocket.

Verified purchase: Yes

"SAMSUNG GALAXY S7 EDGE" SAMSUNG phone engineering insanity from the inside out!!:)

Excellent phone. It's SAMSUNG engineering insanity, this phone is kick ass from the inside out. I do encounter issues from time to time. I've used this phone every day for 8-12 hours per day for almost 60 days straight. I use it for everything. Most issues are app related but what can I say, I have 111 downloaded apps installed on mine including live wallpapers. I can only think of maybe 6 issues from everything in the entire phone most being app related so it's not Samsungs fault. I do have one issue I just developed in the past 24 hours, phone keeps restarting at random, hopefully it blows over or it gets fixed somehow. It's a concerning issue. The camera is insane, every feature I could ever ask for. The phone build is a dream. It feels so good to hold, you find an excuse to have the phone in your hand, I do. Lol. The processor is epic, I'm sporting SAMSUNGS exynos octa core 8890 processor, it's essentially MONSTER ENERGY on steroids, though it needs improvements in the ram management department for high performance users like me cause the processor can actually manage way more than there is ram even though theres 4gb of ram, that processor is just "EPIC"! overall it blows everything else out the water. My galaxy s7 Edge is the only device I use since the day I got it. It replaced my old phone, my digital camera, mp4 player, fitness watch, tablet, & even flashlight. This phone is a true marvel of engineering. The only thing that slows it down is a poor app or app update as they sometimes create there own problems which I know is so annoying amongst the millions of smartphone users. Touch wiz is great but let's be honest, always room for improvements, Android, forever improving, smarter every day. LOVE IT!

Verified purchase: Yes

Still a top contender for phone of the year of 2016

This was admittedly my #2 choice for a phone this year, but with the Note 7 being in the situation it is in, this made a fine choice., , Waterproof, wireless charging, readily available accessories, VR capable, solid hardware, great camera, fantastic display, small bezels, and much more. Whatever your must have list includes, chances are the S7 edge ticks quite a few of those boxes. It doesn't necessarily do anything the absolute best, but it does everything pretty well at the very least, with many being at or near the top of the smartphone game., , For me, it came down to being the best overall phone for what I needed and wanted. There are a few missing features I'd have liked, like USB type C, and specifically with the international model, Samsung Pay. But compromises have to be made with any phone so far, and these were more minor than the others to me., , The 935F is one of the better options as far as unrooted phones go. And the S7 edge is just a great overall phone for anyone looking to a flagship level device should take a good look at this phone., , I am still a little sad about the Note 7, but this is my absolute first choice as an alternative, and we shall see what comes from the Samsung camp in the coming months. For now though, I am more than happy with my S7 edge.

Verified purchase: Yes