About Roku Streaming Stick 3800
High definition comes in small packages.

The Roku Streaming Stick 3800 fits in the space behind your TV and still supports full 1080P HD so you don't need a large box for high quality.

Take advantage of quad core power.

With a quad-core processor and fast Wi-Fi, the Roku 3800 is fast enough to load channels and start streaming in seconds.

Search without typing a word.

Voice search lets you find your favorite shows just by the asking. It's an easy way to control your Roku Streaming Stick 3800.

Take full advantage of HDMI.

The Roku Streaming Stick 3800 reads your EDID information from the HDMI port, so it can automatically adjust the remote to control TV power and volume.
eBay has provided more information about this product above and is not affiliated with or endorsed by Roku.
Compare Similar Models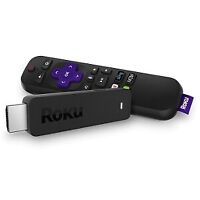 Roku Streaming Stick 3800
Sound Channels
Device-Dependent
Internal Memory
256 MB, MicroSD
Wireless Connectivity
Wi-Fi
Top 10 High ratings
Top 2 Low ratings
Roku: Why we own WAY more than one!!!

We love our Roku's!!! We started several years ago with a Roku 2 box and from day 1 we were hooked!!! Currently we have six Roku's in the house ( . . . yes the original Roku 2 is still working beautifully) and the latest edition Roku 3800 is a most welcome addition. We live in a multi-generational household and reflect three generations of taste. The Roku's give us the freedom to watch whatever we want whenever we want. Our daughter and son-in-law recently bought us a 4K UHD TV for our bedroom and the first thing I did was to purchase a Roku Streaming Stick+ so that we could take full advantage of the incredible picture quality. We returned the favor when a bracket malfunction destroyed the TV in the kitchen and brought an HDTV for the family. Guess what the first purchase I made for it was? Right . . . the Roku 3800 Streaming Stick. Our grandchildren can enjoy their favorite Disney, Nick & Nick, Jr. programs along with a myriad of other child friendly programming without being subjected to the incessant commercials for more toys and sugared sodas. The adults can stream their favorite Netflix, Amazon Prime Video, Hulu, etc. programs without competing for the living room couch!!! We took our Roku 2 Box and put it in one grandchild's room and our Roku 3600 Streaming Stick in the other child's bedroom. I was familiar with the upgraded Roku 3800 Streaming Stick because I recently installed one on the flatscreen in my wife's office. As long as the Roku's are getting a clear wireless signal they operate flawlessly. That did require us to add two extenders to areas of the house that were "dead zones" but that's really not the point. We're a Roku household and we're genuinely glad that we are!!! Happy streaming!!!

Verified purchase: Yes

Get It !

I wanted to get rid of cable that costly local cable service. This is just great, it's like be able to choose what you want to see, including News...Lots to choose from. If you're not a "Geek" , it may take a little time to setup, but not much at all. There's lots of the same commercials when watching free movies, but you can pay and have your own "movie theater". Yeah, this is the way to go , for sure ! If I only new earlier..... Get it ! And you can't beat the price ....Refurbished is great too !

Verified purchase: Yes

Fast, Easy to Use Roku Streaming Stick

Roku Streaming Stick is a great entry level streaming device for all HDMI capable TVs. It works best for secondary TVs (kitchen, office, bedroom). Other Roku devices are better for HD, 4k, surround sound installations. I like this generation Stick because it includes power and volume controls for your TV. I don't find much value for the 4 Hot buttons on the remote. This "RT" model has a specific Hot button for Direct TV Now, which again I do not use. This model has been discontinued, but still recommended, if you can find a not previously registered stick.

Verified purchase: Yes

Great product

I love this Ruku stick. It is easy to use and set up. I had two firesticks and replaced them with Roku sticks. In my opinion, the Roku sticks are much superior. I was paying $150 a month for satelite tv. I bought the Roku stick and subscribed to youtube tv. I now pay $38 a month and don't miss satelite at all. I get all the local channels and live tv. You only need the one remote because it has volume control and will turn you tv on and off. I am ordering two more sticks.

Verified purchase: Yes

Smart, economical, and reliable.

For endorsements, this is my third. And I still use cable. PRO: small, easy set up, portable, access my cable via app + Netflix, Prime, or anything else out there. If you have usb port, that eliminates wall plug-in. Boot up is pretty quick with rare pixilation or loss of stream. Only con is that channel change is up-down only with no way to enter a channel #... a little annoying when going from #08 to #551. However, it pays for itself in about 3-4 months vs. a cable box. Which is why I have 3.

Verified purchase: Yes

A great product for the money

I wanted to replace an older model of the Roku stick only because my older one stopped working after a few years so I decided on this model and it's much faster plus I like the newer features on the remote like the mic that you can speak to... I found it quite useful... also the price was right which was a good selling point and overall I'm satisfied with this purchase..

Verified purchase: Yes

Excellent streamer with excellent options!

Very happy with this product. Streams what I like to watch, when I like to watch it. Great price too. I really dig how I can control the TV with this little remote instead of having to switch between a TV remote and the ROKU remote. Great added feature. Haven't used the voice command feature yet but I am looking forward to it.

Verified purchase: Yes

Good product as described

The Roku interface for all devices uses old keyboard entry that is needed for set-up. Other features are as advertised and it is so economical I can't kick. The basic Roku unit is only good when used close to the wifi router. It is worth the difference to up-grade to this unit and other stick models with the voice remote.

Verified purchase: Yes

Great picture quality and easy setup

Upgraded to this from an older Roku Express and WOW what a difference. Picture quality is amazing - it's like I have a whole new TV. Setup was super easy and the added feature of tv power and volume control on the remote makes such a difference. 10/10 would recommend.

Verified purchase: Yes

Perfect Streaming Device

Wanted a good streaming stick for a couple of my TVs, and these were perfect. So easy to set up, especially like that the remote pairs with the TV itself, nothing you need to do. Would buy more if I needed more.

Verified purchase: Yes