About Apple TV (3rd Generation)
Add the Remote app for greater usability.

Remote is a free, fun and easy-to-use app that turns your iPhone, iPad or iPod touch into a remote control. Wherever you are in your house, you can control your Apple TV with a tap or flick of a finger.

See what's on with Apple TV.

Everything you want to see and hear — movies, TV shows, your music, photos, and sports — plays wirelessly on your HDTV via Apple TV.

Find your favorite content in HD.

Rent movies in top-quality 1080p HD from the iTunes Store.

Stream from your phone or tablet to your TV with AirPlay.

Play content from your iPhone, iPad, or iPod touch on your HDTV. Watch movies, play music, show off your videos and photos — even show what's on your screen to enjoy games, web pages, and more.
eBay has provided more information about this product above and is not affiliated with or endorsed by Apple.
Price Trends
Apple TV (3rd Generation) - Price New and Used
New Price*
from $71 to $85
Used Price*
from $37 to $45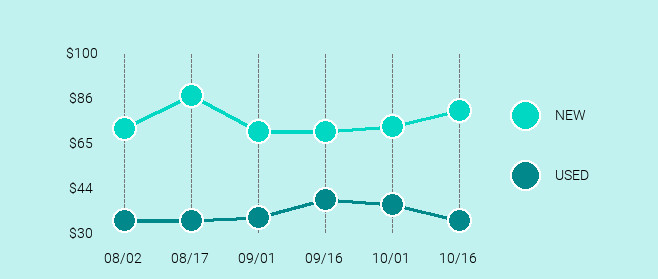 *The average sold price is calculated based on "Buy It Now" items sold within the 90 day period described above (excluding shipping and handling). Each interval represents a 15 day period. There is no guarantee that items will always be listed at a price within the provided range.
Compare Similar Models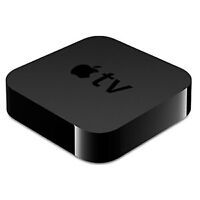 Apple TV (3rd generation)
Processor
Apple single-core A5 chip
Ports and Interfaces
HDMI (720p or 1080p), Optical audio, 10/100BASE-T Ethernet, IR receiver, Micro-USB, Wi-Fi (802.11a/b/g/n), Bluetooth support for Apple Wireless Keyboard (requires Apple TV software version 5.2 or later)
Video Formats
H.264 video up to 1080p, MPEG-4, Motion JPEG (M-JPEG)
Audio Formats
HE-AAC, AAC, Protected AAC, MP3, MP3 VBR, Apple Lossless, AIFF, WAV, Dolby Digital 5.1 surround sound pass-through
Photo Formats
JPEG, GIF, TIFF
Size
0.9" H x 3.9" W x 3.9" D
Apple TV (2nd generation)

Ports and Interfaces

HDMI (720p), Optical audio, 10/100BASE-T Ethernet, IR receiver, Micro-USB, Wi-Fi (802.11a/b/g/n)

Video Formats

H.264 video up to 720p, MPEG-4, Motion JPEG (M-JPEG)

Audio Formats

HE-AAC, AAC, Protected AAC, MP3, MP3 VBR, Apple Lossless, AIFF, WAV, Dolby Digital 5.1 surround sound pass-through

Photo Formats

JPEG, GIF, TIFF

Size

0.9" H x 3.9" W x 3.9" D

Remote

Aluminum Apple Remote

Apple TV 4K

Processor

A10X Fusion chip with 64-bit architecture

Ports and Interfaces

HDMI 2.0a (2160p, Dolby Vision, and HDR10), 802.11ac Wi‑Fi, Gigabit Ethernet, Bluetooth 5.0, IR receiver

Video Formats

H.264/HEVC SDR video up to 2160p, HEVC Dolby Vision/HDR10 up to 2160p, H.264 Baseline Profile level 3.0, MPEG-4

Audio Formats

HE-AAC, AAC, Protected AAC, MP3, MP3 VBR, Apple Lossless, FLAC, AIFF, WAV, AC-3 (Dolby Digital 5.1), E-AC-3 (Dolby Digital Plus 7.1 surround sound), Dolby Atmos

Photo Formats

HEIF, JPEG, GIF, TIFF

Size

1.4" H x 3.9" W x 3.9" D

Apple TV (1st generation)

Ports and Interfaces

HDMI and component video (480p or 720p), Optical and RCA stereo audio, 10/100BASE-T Ethernet, IR receiver, USB 2.0, Wi-Fi (802.11b/g/n)

Video Formats

H.264 and protected H.264, iTunes Store purchased video, MPEG-4

Audio Formats

AAC, Protected AAC, MP3, MP3 VBR, Apple Lossless, AIFF, WAV, Dolby Digital 5.1 surround sound pass-through

Photo Formats

JPEG, BMP, GIF, TIFF, PNG

Size

1.1" H x 7.7" W x 7.7" D
Apple TV works great but remote doesn't work too well

The Apple TV works great but the remote is a bit funky. It doesn't respond as well as other Apple TV remotes I've used in the past (skips items, goes left when I clicked up or down, etc.) This isn't a big deal though because we just downloaded the Apple TV Remote app on our phones and that works fine. Also, when we got the Apple TV it was still logged into another account for the apps (Apple ID, Netflix, etc.)... we had to factory reset it which should have been done beforehand. Doesn't come with an HDMI so you'll have to get one yourself to connect it to your TV.

Verified purchase: Yes

Almost Great

I have both Roku and AppleTV devices. By most measures, the Apple device wins by a mile. The interface is easy and beautiful. But more importantly it has better sound and video. Why not 5 stars? The big flaw is Apple's self-serving control over the apps and services they allow on their device. Because they want to sell Apple Radio, there is no Pandora. Because they compete with Amazon, no Amazon Prime. Understandable, but frustrating. It means that, instead of one device--and it would be AppleTV--I still need Roku. Frustrates me and likely avoids a knockout blow to Roku. Thus 4 stars not 5.

Verified purchase: Yes

works great but no youtube

This 3rd generation Apple TV is easy to setup and use. It comes with a whole bunch of apps preinstalled. The remote is simple and easy to use. The interface is intuitive and I like it. But the Youtube app is no longer supported on the 3rd generation. So as long as you don't need Youtube, everything else works fine. I can mirror the screen from my iPhone if I want to show Youtube, so that is my workaround. Uses wired ethernet or wifi which is nice.

Verified purchase: Yes

Love it, but, has its limits

Yes I LOVE IT...but, needs VUDU and some others! Make no mistake, you NEED a service to enjoy this fully! Sure, you could hitchike off your paying friend/family...but, every channel must be code input! Not hard, just time consuming! Much of it is access to what must be PAID for, and only BIG CITY accessible for big networks! Wish the History, H2 etc, were always FULL content. Limited to current content mostly. Adding access for other channels would be awesome!

Verified purchase: Yes

Amazing product despite being outdated.

Even though the 4th gen and now 4k Apple TVs exist, this thing is still great, turns on instantly, supports most major streaming services like youtube, netflix, hulu, hbo, sadly no prime video though. Airplay is easily the best feature and the reason I purchased this, it's so easy to just instantly send any video or song to your TV and works flawlessly, even screen mirroring for iOS devices and macs as well.

Verified purchase: Yes

Check for battery!

Great, received it promptly and in tact. Took me a while to figure out the battery was removed from the remote, so had to go out and get one to see if it was working...which it does perfectly! All good.

Verified purchase: Yes

Good value for an older airplay

Happy with the item. Not as slick as the newer models. This one needs a battery for the remote. The new ones are rechargeable. Not a big deal. Does the job.

Verified purchase: Yes